Before each Ohio State game, Eleven Warriors catches up with a media member who covers the opposing team to get their perspective on the Buckeyes' upcoming opponent.
With the rivalry game on tap this week, we welcome back Isaiah Hole, the publisher of Wolverines Wire, for a breakdown of the Michigan Wolverines entering The Game.
As the Wolverines enter this game with an 11-0 record, are they as good as the team that beat Ohio State last year? How much more confident are Michigan fans about the state of the rivalry because of last year's win? How much will it hurt the Wolverines if Blake Corum can't play on Saturday? What are the biggest challenges Michigan could present to Ohio State? And finally, does he believe Michigan will win for the second year in a row or will the Buckeyes get back on top?
Hole shares his answers to all of those questions and more below.
How has the perception of Ohio State, and Michigan's chances of beating Ohio State, changed among Michigan fans as a result of last year's win?
Hole: In terms of game week, I'm not sure it's any different, but overall, I feel like (before this week) there was a general feeling that the Wolverines have found the secret formula to taking down Ohio State. While most outside of the fan base have focused on the losses of Aidan Hutchinson and David Ojabo, the defensive line has been very good, particularly at stopping the run, and is on pace to eclipse last year's sack numbers.
This week, however, there's a lot more uncertainty given that Michigan has not shown much ability offensively outside of the run game beyond Week 6, and with Blake Corum, the heart of the offense, being questionable for The Game, I think some of that optimism and enthusiasm has been greatly tempered.
That said, it's no longer a false hope that fans have had in the recent past, nor is there an overall feeling of doom — save for the Corum injury, along with the others who didn't play last week. Fans expect a win, though it is greatly acknowledged that it's no sure thing.
Do you believe this year's Michigan team is better or worse than the team that beat Ohio State last year? In what ways are the Wolverines better this year, and in what ways were they better last year?
Hole: To me, it's a bit of a mixed bag.
The defense, overall, has played better than it has at any time in the Jim Harbaugh era, even if it doesn't feel quite as dominant as, say, the 2016 or 2018 teams. Statistically, it's not even a question. However, the only offenses that Michigan has faced with a pulse are Penn State (44th) and Maryland (45th). So, I'm not entirely sure it's been properly tested to really indicate that it's better.
Offensively, the run game has been even more prolific than it was last year, but the pass game has really fallen off since the Indiana game. The very light nonconference certainly made the pass game look like it was going to be the focal point and much better than what we've seen from any Michigan team in recent memory, and the first few conference games were solid on that front, but since then, there's real, valid concern about the Wolverines' ability to throw the football. At the beginning of the season through Week 6 at Indiana, it was more a question about the deep ball, but now it's pretty much everything. When J.J. McCarthy seems to be on the money, receivers don't come down with it. When receivers are open, McCarthy has missed quite regularly. The receivers, as a whole, have been inconsistent and aren't making the same big, explosive plays they made a year ago.
Weirdly, the numbers aren't too far off from last year on that front, but it felt like the pass game could win games and make big plays when necessary. At this point, I'm not sure that it can.
As far as what's better, I do think the offensive line is better than what we saw from the Joe Moore Award winners last year, and that's in large part due to Olu Oluwatimi transferring in. I think Sherrone Moore deserves a ton of credit, given that the line has seen injuries all year long (Trevor Keegan has missed several games at different points in the season, while Trente Jones went out at Indiana and hasn't reclaimed his starting job after returning to full strength in recent weeks; Ryan Hayes missed the Rutgers game but returned against Nebraska). The line has still thrived, as has the defensive line in terms of generally stopping the run game while being adept when it's mattered in the pass game. There have been some lapses in the latter, but when needed, the pressure has stepped up.
Lastly, the play calling has not been nearly as creative as it was last year, but it's been more effective, mostly – which doesn't make sense to me. Perhaps that's been the issue in the pass game, as Michigan started out the year working with a lot of underneath routes and some creative schemes but has since gone to more basic go routes or low-percentage passes. Last year, the end-arounds were prevalent, but they've been nonexistent this year. I expect all of that to change on Saturday because I think Michigan's felt it hasn't needed to be creative to win, whereas it will be the only opportunity at The Horseshoe.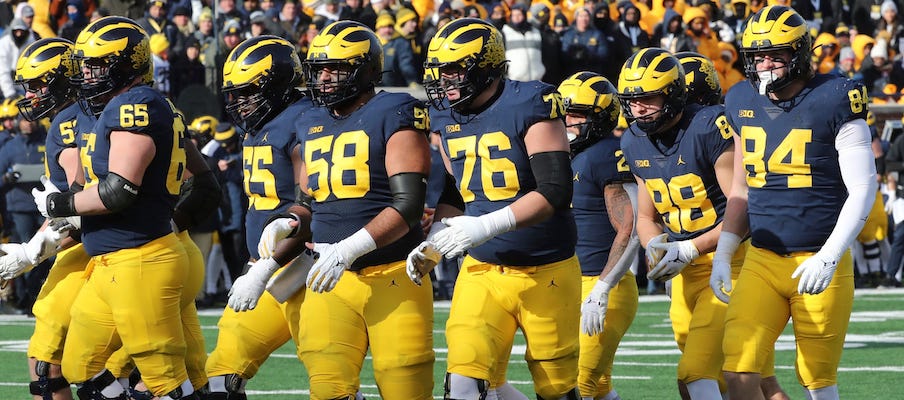 Michigan's offensive line is one of its biggest strengths. (Photo: Kirthmon F. Dozier/USA TODAY NETWORK)
Do you expect Blake Corum to play against Ohio State? If he is sidelined or not his usual self, how big of a blow would that be to Michigan's offense, and how do you think the Wolverines can overcome that?
Hole: I honestly have no idea, but I don't think his chances are good. How much of that is real or subterfuge from Schembechler Hall remains to be seen, but even if he does play, I don't expect him to be near 100%. Honestly, that's the biggest blow this team could possibly have — it would be akin to Ohio State having to sideline C.J. Stroud.
When Michigan could get nothing going in the pass game, it would just rely heavily on Corum, and he would produce and provide. The Wolverines are hyper-reliant on the run game, and Donovan Edwards has been out since the Rutgers game due to an apparent hand injury — and it's also unclear if he's available. Freshman C.J. Stokes — who's shown some promise but has been little-used since fumbling against Maryland in Week 4 — left the Illinois game with injury as well, so Michigan relied on second-year RB Tavierre Dunlap and walk-on Isaiah Gash down the stretch. Neither was particularly productive, but Gash did have a big catch on a fourth-down play to keep the Wolverines' chances alive on the final drive against the Illini.
If Corum can't play, it completely changes the offense, and suddenly, Michigan would have to recapture what it was able to do in nonconference — but against the best team, it's played rather than the three worst. The only way it would be able to overcome Corum not playing would be a somewhat healthy Donovan Edwards being able to shoulder the load, along with Stokes, and the pass game suddenly finding a rhythm it really hasn't had all year.
Who are some of the other players that could give Ohio State problems on each side of the ball?
Hole: On offense, the aforementioned Edwards is a mismatch for nearly every team, because he can run (he has the highest per-carry average on the team) and is probably Michigan's best receiver outside of Ronnie Bell. Speaking of Bell, he's essentially diet Chris Olave in terms of how he's utilized, but not in terms of his ability to come down with incredible catches. J.J. McCarthy's favorite target, if he returns from injury, will likely be tight end Luke Schoonmaker, who's done a good job of carrying the load with Erick All out for the season. He's been reliable and is Michigan's second-leading pass catcher. However, he's been out the past two weeks. His replacement, freshman tight end Colston Loveland, has been a decent replacement and has shown athleticism and a proclivity to get open.
Defensively, if Mike Morris returns from injury, he's the player to watch. He's been Michigan's best edge rusher, though certainly not on the same level as Aidan Hutchinson was a year ago. Eyabi Okie, the former No. 3 recruit in 2018 who was a journeyman before transferring to Michigan, has shown flashes akin to David Ojabo, but he's been quiet in recent weeks. Mazi Smith has been incredible at defensive tackle, despite not having much to show for it in terms of stats, as have junior DT Kris Jenkins and freshman Mason Graham, who's coming on strong of late.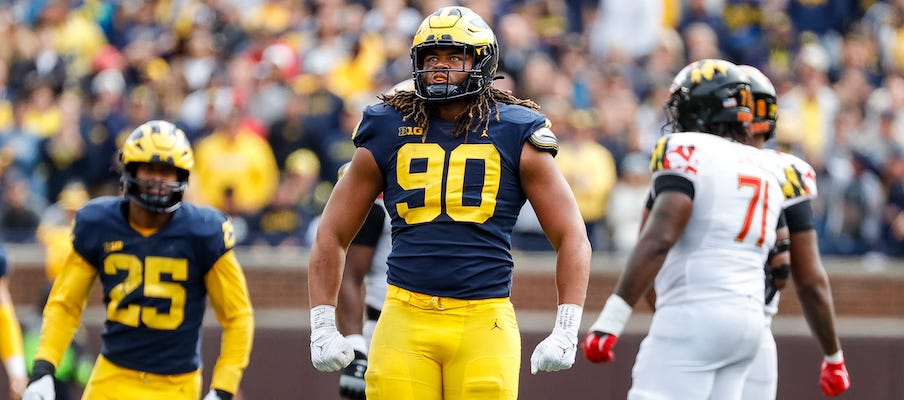 Mike Morris leads Michigan with 7.5 sacks this season but missed the Wolverines' most recent game against Illinois due to injury. (Photo: Junfu Han/USA TODAY NETWORK)
The linebackers have been merely OK, but they've been helped by the front and the secondary, which has been very good, save for some occasional per-drive lapses. Except for the first half against Michigan State, Gemon Green has been lockdown, DJ Turner has mostly lived up to his 2021 performance (but he's also had lapses), and five-star freshman Will Johnson has come on strong in recent weeks.
Of course, Michigan is confident in kicker Jake Moody, who just set a school record for most made kicks in a career.
Where do you see Michigan having an advantage in this game, and what do you see as the biggest area of concern for the Wolverines?
Hole: I do think Michigan will still have an advantage in the trenches on both sides, and while this seems counter-intuitive, I'm not entirely sure it matters, unless they both flat-out dominate — which I don't anticipate. Again, the potential loss of Corum is game-changing for Michigan and the run game, and the offensive line has not been quite as good at pass protection as it has been opening up holes in the run game. And while they may open up holes even in this game, I'm not confident that, if Corum can't play and Edwards is limited, the other backs can take advantage. Given the pass game woes, I would list the entire offense as a concern going in — not something I would have said about three weeks ago.
I think Michigan could have some advantages on defense, given the line play and the secondary. But if the offense can't sustain long drives and the Wolverines can't play complementary football, I'm not sure it will matter. It will be an interesting matchup regardless, as it will be strength-against-strength from a unit perspective, but Michigan is built as a collective machine rather than a series of parts that emerge week-to-week. If one of the parts breaks, as it may have, then it's up in the air whether or not the machine can function.
What's your score prediction and why?
Hole: Before the Illinois game in Week 12, I had Michigan winning, potentially in a similar, yet closer, fashion to last year. I agree with Joel Klatt's previous assertion that the Wolverines are built to contend (not necessarily beat, but contend) with Ohio State, but the Corum injury changes everything. It changes Michigan's ability to control time of possession, keep the defense fresh, play ball control, and generally dictate the terms of the game. While that doesn't mean it can't happen, I certainly don't anticipate it will. Michigan will need a literally perfect game plan and have more aces up its sleeve than I expect to pull this one out.
I think there will be some surprises, and I don't have any tangible evidence to that but the team confidence displayed in press conferences this week. They don't seem fazed and appear even more bolstered than they were heading into The Game last year – Jim Harbaugh included. However, at this juncture, despite injuries on both teams, Michigan's are much more dire and impactful, given what we've seen thus far. Ohio State has shown that it can go 'next man up' a lot more easily than Michigan can, as well.
I still expect a close game, but I have Ohio State pulling it out. Ohio State 30, Michigan 20.