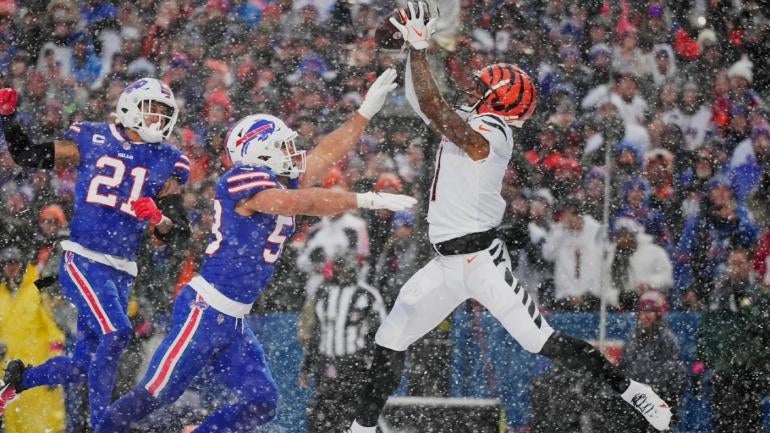 Getty Images
For an instant, it appeared the Bengals had taken a 20-7 lead over the Bills late in the first half of Sunday's divisional round playoff showdown. But the officials overruled Joe Burrow's 10-yard strike to Ja'Marr Chase after determining Chase had failed to maintain control of the ball. 
Instead of taking a two-touchdown lead, the Bengals had to settle for an Evan McPherson field goal and a 17-7 lead with 1:49 left until halftime. 
Did Chase score a touchdown? Or did the officials get the call right? See for yourself. 
The NFL has altered its stance on what constitutes as a catch several times in recent years. While it has softened up its stance on surviving the ground, the league is apparently still stingy when it comes to ball movement while securing a catch. 
Cincinnati dominated the first half, scoring on three on its five drives. Burrow threw two touchdown passes, which included a 28-yard score to Chase to open the scoring. Conversely, the Bills scored just one touchdown while compiling 108 total yards in the game's first 30 minutes. 
The overturn certainly didn't sit well with Bengals fans, who two weeks ago saw their team lose any chance at claiming the AFC's top seed after the league created new playoff guidelines after canceling the Bills-Bengals Week 17 game. The Bengals, who had to settle for the No. 3 seed, will have to win two road playoff games if they are going to get back to the Super Bowl. Conversely, the Bills will play the Chiefs in Atlanta should they defeat Cincinnati. More than 50,000 tickets have been sold for a possible Bills-Chiefs AFC title game after the league advised both clubs to begin selling tickets prior to divisional round weekend.