Local
"I love Riley, and this is a very difficult time in the cycle of joy and pain in parenting."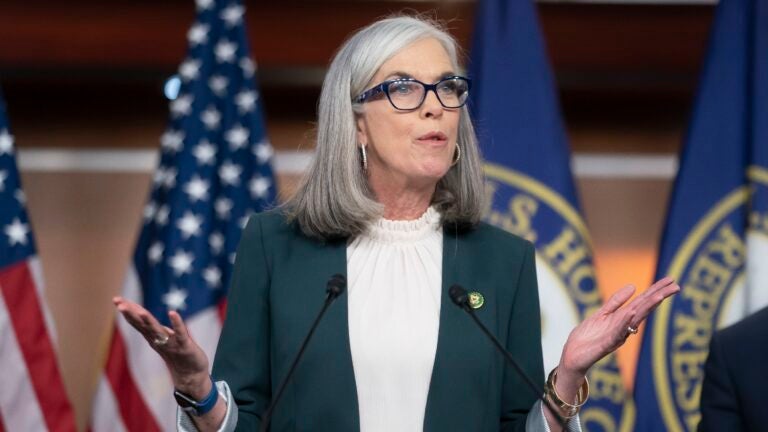 Massachusetts Representative Katherine Clark's daughter was arrested Saturday in Boston and charged with assault with a dangerous weapon, destruction of personal property, and damage of property using graffiti.
Boston Police referred to the suspect as 23-year-old "Jared Dowell." In a statement Sunday, Clark referred to her daughter as "Riley."
Clark, the House Minority Whip, has spoken publicly in the past about having a non-binary child.
Dowell was arrested after police responded to a protest at the Parkman Bandstand Monument in Boston Common at about 9:30 p.m. Saturday, according to Boston police.
"I love Riley, and this is a very difficult time in the cycle of joy and pain in parenting," she said in a statement. "This will be evaluated by the legal system, and I am confident in that process."
Dowell was found defacing the monument with spray paint, police said. She allegedly wrote "NO COP CITY" and "ACAB," an acronym for "All Cops Are Bastards."
As officers arrested Dowell, a group of about 20 protesters surrounded them, yelling profanities through megaphones and stopping traffic on a nearby street, according to police.
During this incident, an officer was hit in the face and could be seen bleeding from their nose and mouth, police said.
About an hour later, at 10:27 p.m., officers made another arrest at the Parkman Bandstand. Andrea Colletti, 27, of Brighton was charged with damage of property using graffiti, destruction of personal property, and resisting arrest. Police said she attempted to flee on foot, and was arrested after a brief struggle.
Both Dowell and Colletti are expected to be arraigned in Boston Municipal Court.
Newsletter Signup
Stay up to date on all the latest news from Boston.com