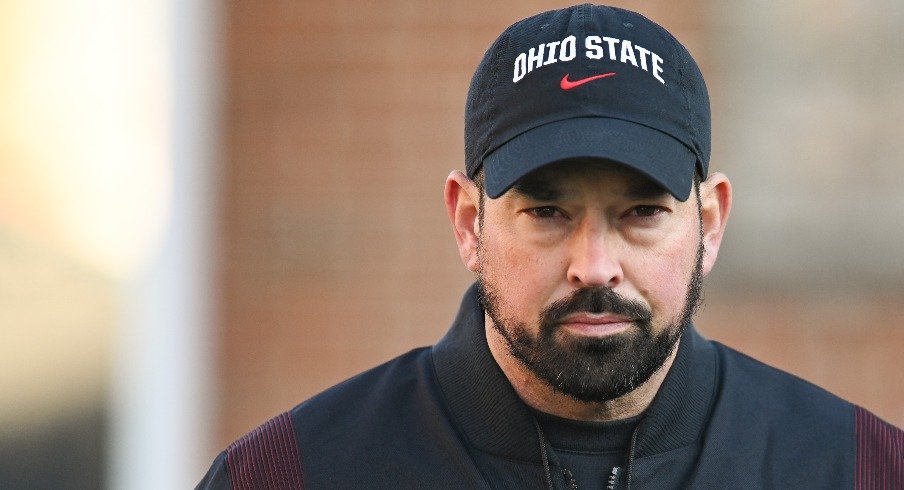 Tommy Gilligan / USA TODAY Sports
With The Game three days away, Ryan Day took to the airwaves to preview the rivalry matchup against Michigan.
The Ohio State head coach was followed by offensive coordinator Kevin Wilson and defensive coordinator Jim Knowles, who also commented on the Buckeyes' approach heading into their battle with the Wolverines.
Here are some highlights from The Ryan Day Radio Show on 97.1 The Fan:
Ryan Day

On the team's preparation for The Game this week

"(There's) no stone left unturned."
"You want to do everything you possibly can to put your players in a position to succeed this week."
Day said Ohio State is undefeated but hasn't achieved any of its goals: beating Michigan, winning a Big Ten Championship and winning a national title.
On Ohio State's win over Maryland

"You never know when you go into a game what to expect."
Day said Ohio State's halftime adjustments were a significant factor in winning the Maryland game. "I thought we did a nice job coming out into the second half and had a good third quarter."
Day said he was proud of how his players displayed competitive stamina to overcome the Terrapins in a four-quarter game in College Park.
On Dallan Hayden's performance against Maryland

"The number one job is to take care of that football."
Day said Hayden's efforts against Maryland sparked the Ohio State offense that helped the Buckeyes win the game. "That was positive, to see him hitting those holes and running through contact."
Day said he hopes Ohio State's running back room can return to full strength this week so that all four ball carriers – TreVeyon Henderson, Miyan Williams, Hayden and Chip Trayanum – are available on Saturday for the Michigan game. "They had a good day of practice yesterday. Really looking forward to getting a couple of guys back in that room."
On the scout team's responsibility to prepare everyone for Michigan

"It's a huge responsibility. The better the look, the better the offense, defense and special teams play."
"I think our guys have done a nice job on the scout team this year."
Day pointed out Kenyatta Jackson, Hero Kanu and Jackson Kuwatch for their efforts on the scout team this season and for how they played in Tuesday's practice this week. "They have bright futures ahead of them because of the hard work they are putting in."
Day said the scout team wearing Michigan's winged helmets during practice made him "buckle up for this week" when he started coaching in the program in 2017.
On Michigan's defense

"Very good. The stats speak for themselves."
Day said Michigan's defensive coaching staff "has done a great job" this season in creating one of the best defenses in the country. He said there are many of the same elements he has seen from the Wolverines in recent seasons, but there have been some tweaks made under the new regime.
On what makes C.J. Stroud stand out

"It's the everyday preparation."
Day said Stroud's experience in last year's Michigan game (and other big games, for that matter) will help him in this season's matchup with the Wolverines. "When you're in these big games, a big part is about understanding how important every play is, and nobody understands that better than he does."
Day said Stroud had a great practice on Tuesday, and he looks forward to seeing Stroud put together more quality practices in the coming days.
On Cade Stover

Day said Stover "embodies toughness" for the Ohio State program and that other players on the team take notice of how Stover approaches every practice and game. Additionally, they notice how he handles things like nutrition and weight training seriously, even during a busy season as Ohio State's starting tight end.
"There's not a tougher guy in the country than Cade Stover."
On Tommy Eichenberg

"There's the production. There's the talent. But there's also the dirty work."
With Eichenberg's willingness to do the dirty work, Day said he should have been featured as one of the five finalists for the Butkus Award. "It's a shame because that's what I think the Butkus Award is all about."
Day said Eichenberg continues to prove why he is the leader of the Ohio State defense with how he comes to practice every day ready to play, make plays and improve as a player.
On Lathan Ransom, his blocked punts

"It's a lot of hard work. You don't come to Ohio State to play special teams… but I think our guys have embraced the fact that playing special teams is important and part of the plan to win."
Day said the Buckeyes' best players earn their stripes by playing special teams. He said Ransom's efforts have shown that some of the biggest plays in a game can come on special teams, which is something Day said the younger guys on the team have noticed in the last few weeks.
On playing with emotion against Michigan

"It's about playing with emotion and not letting emotion play with you."
Day said discipline, toughness and skill will be the biggest things for Ohio State to defeat Michigan on Saturday. If the Buckeyes can win in those three areas, Day said that will give them an excellent chance to win.
On Senior Day on Saturday

"(The seniors) love Ohio State… They've done a lot of things for Ohio State."
Day said he has loved reflecting on the different journeys that have taken place for all the players that will be recognized on Saturday during Senior Day. "It's a chance to recognize everything they've done."
Day specifically pointed out Kamryn Babb and Zach Harrison as players he thought about this week regarding their journeys as Buckeyes. He added that Harrison "is one of the most powerful and most productive defensive ends in the country right now."
On Ohio State's players helping those in need on Monday

"It's a great opportunity for them to help people."
Day said this week "is a special week for a lot of people" and said his players have a lot of passion for giving back to those in need in the Columbus community.
On the Ohio State vs. Michigan rivalry

"When you put the Block O on your shirt, it's your identity, it's who you are."
Day said he knows what this rivalry means to Ohio State fans and knows that everything about the Buckeyes season is determined by how they play against the Wolverines at the end of the year.
Jim Knowles

On Ohio State's resilience to overcome adversity this season

"That's the competitive excellence that Coach Day always talks about."
Knowles said Ohio State "hasn't been perfect" in competitive excellence and competitive stamina and many other areas this season. Still, he believes that players have continued to grow and improve as a program with competitiveness and toughness.
On Michigan's offense, its goal to wear down the Buckeyes

Knowles said Michigan's run game is the kind that grinds on a defense throughout the game. "They're a team that wants to wear you down and get you in the fourth quarter. I think we have answers for that."
Knowles said Ohio State's depth – specifically at the defensive line – has prepared the unit to be ready for whatever the Wolverines throw at them this weekend. He hopes to see that depth and experience pay off when the defense is on the field on Saturday.
On Tommy Eichenberg

"Tommy is athletic, but really what he has been is tough. He is a stalwart."
Knowles said he has been impressed with how much Eichenberg has learned and applied to his game as Ohio State's top linebacker this season. He said Eichenberg is always looking to learn more so he can improve.
"I've been really happy with his performance.
On Ohio State's defense, using depth on Saturday

"We need all of them. We need every single one of them. This is gonna be a game where they need to fight and compete."
Knowles said the message to Ohio State's defense this week is that "everybody is a tackler." It doesn't matter if it's the defensive line, linebackers, cornerbacks or safeties. Knowles said every player will be counted on to make tackles on Saturday.
Knowles said the Buckeyes need to be disciplined and fundamentally sound on Saturday, especially when Michigan running back Blake Corum is on the field. Otherwise, the Wolverines' offense will make them pay for their mistakes.
Knowles added that Corum is "a big-time running back" for Michigan. "He has the vision, he has the burst, the short-space quickness." Knowles reiterated that Ohio State will need to be disciplined this weekend.
Kevin Wilson

On Dallan Hayden's performance against Maryland

"It was needed."
Wilson said Maryland has prepared Ohio State for Michigan and said the Terrapins were stout and tough defensively. "That was a tough challenge for us."
"Dallan did a great job. Made some guys miss… He has a special future."
On Cade Stover

"Great leader. Great teammate. He does a lot of dirty jobs."
Wilson said he is "extremely proud" of the player Stover has become for the Buckeyes.
Wilson said Ohio State's offensive coaching staff has asked Stover to do a lot this season, and they will do that again on Saturday. "We're gonna need his best this week… It's gonna be a phenomenal challenge and great opportunity to show what kind of player he is this week."
On winning the trenches against Michigan

"Both sides of the ball this week, their edges against our edges will be huge."
Wilson said Ohio State must win the battle in the trenches against Michigan. If it doesn't, the Buckeyes could be in for a long afternoon as the Wolverines wear down OSU's offensive and defensive line.